Dollhouse Forum Highlights
Another sneak peak at a few of the options that will be available for this years Spring Fling dollhouse.  Up on top we have the Cupola Kit which can drastically change the appearance of your project.  Big and bold, it looks great on not just the main house, but the additions too! 
The middle photo is the Dormer Window Kit.  Dormer-style windows have a long history in American architecture, and now you can add one to either the base house or the additions in a blink of an eye!  For you kit bashers, adding a whole in the roof will make it fully functional! This little window is the perfect addition to any dollhouse!
Last we have the Roof Finials!  Fitted to decoratively emphasize the apex of the roofs, they are said to pull double duty (by those who are superstitious) to ward off evil spirits!  The finials are made of our thinner maple plywood to stay true to scale.
Of course, all of these items are laser cut with the precision of a Jedi Master.  You will find them at a deep discount when we launch our Spring Fling contest next week!
As the clock runs down to our fifth annual Spring Fling Contest, I have a few new top secret photos to wet your appetite.  The question is, what goes between these two additions… you'll need to stay tuned!  All I can say is that both of these affordable additions will be available in a right and left hand version and all of them come with two faux door frames to complete the illusion of being attached to the main doll house.  The roofs will be configurable to match the contest kits roof line or positioned further toward the front of the house.  So with the base house, that's nine different ways to configure this dollhouse!  These bad boys may also look great attached to one of your current dollhouses, so be sure to catch them at a discount next week!
As the days get longer and the snow beings to melt, it can only mean one thing… the Greenleaf Spring Fling is just around the corner!  This years project will set a new standard in expandability which will allow even the timid to bash their kit into a one of a kind creation!
We decided to expand off  the concept of last years project kit, now know as the Baslow Ranch, which was a base kit with an optional addition.  We will again be offering a very handsome base model at an affordable delivered price, but there will be many optional enhancement available to customize your project.  The picture above is just one of those items; a stair case/upper deck kit which can attach to the project kit (or for that matter, any of our dollhouses) in many different ways.  This option will come with two door frames so you can add a faux door to complete its appearance. 
Besides the stair case/upper deck kit, we will be offering additions, roof enhancements and maybe even  platform bases on which you can display your project.  All of these items will be offered at a deep discount during the contest.  Stay tuned for more details over the coming weeks and remember; Spring is almost here!
I would like to start by apologizing for the delay in delivering this years contest results. Though we had our usual deliberation issues, there where other complicating factors that rest squarely on my shoulders. I mismanaged this event and for that, I am truly sorry. Hopefully those of you who have been patiently waiting will forgive me when you see this years participation gift. All who entered will be receiving one of these bad boys which you can read about below. So without further delay I present you the winners of the 2010 Spring Fling Contest:
First Place - Congratulations otterine!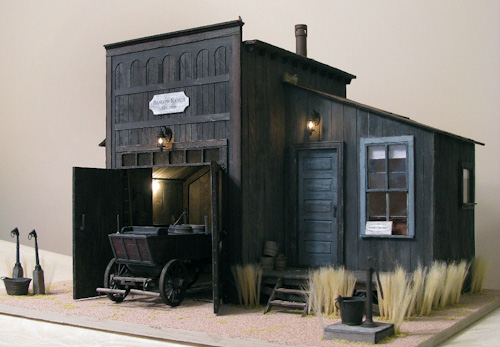 Brae Wins a $500 Gift Certificate to the Greenleaf Company and Re-names this Dollhouse!
That's right, I'm happy to re-introduce you to one of our newest dollhouses, Baslow Ranch which is named in honor of Brae's dear departed pets, Basil (pronounced bazzill like an Englishman's name) the cat; Clover and Willow who were both dwarf hamsters. In addition to bragging rights, Brae will get $500 to spend at will in the Greenleaf Company Store and a laser engraved trophy house!
Second Place - Congratulations Madhatter!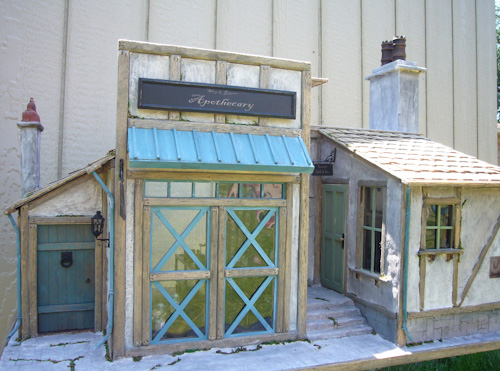 Jennifer Wins a $250 Gift Certificate to the Greenleaf Company Store and a laser engraved trophy house!
Third Place - Congratulations Rich T!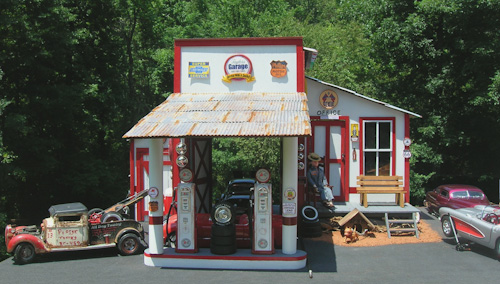 Rich wins a $125 Gift Certificate to the Greenleaf Company Store and a laser engraved trophy house!
We truly enjoyed all 44 entries and I thank all who participated. All entries are available for viewing online in our Community Contests and Classes Gallery which you can visit here.
Hold on - Congratulations, everyone's a winner!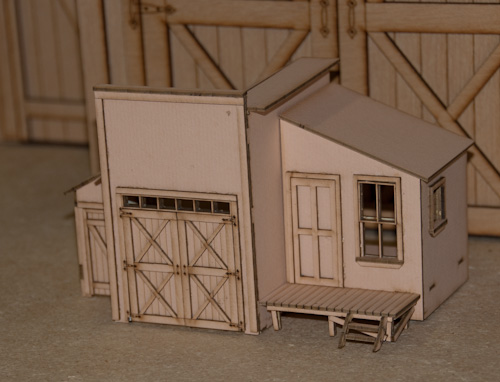 That's right, everyone who entered is going to get a quarter scale version of the Baslow Ranch! We scaled down this wonderful little house and put our new laser cutter to work so everyone can have a memento of this historic event! I hope everyone enjoys this house as much as we've enjoyed looking at you amazing projects!
And a Personal Thanks to the Judges
Big thanks to my big sister Lisa, Rick and Bev for a job well done!
We've been working long and hard to come up with something unique, something unusual, something affordable and something LASER CUT! That's right! The Greenleaf 2010 Spring Fling Contest will be centered on a fantastic laser cut structure at a price that will knock your socks off! To fit this kit into everyone's budget, we will be offering a base structure that will have an optional addition available for those who want to expand on their kit. As with last year's contest, the use of the upgrade option will have no impact on the judges, so you can feel comfortable competing with just the base model.
So what's the big deal about laser cutting? I think that many of you might have that question and this will be the perfect opportunity to find out. For now, I'll focus on the detail in the accompanying teaser picture. As you can see, the doors have laser engraved detail that we just can't accomplish through traditional means. That's just the start; it's a breeze to strip out the pieces and sanding is minimal, so assembly happens at light speed! And speaking of speed, we're even going to include some samples of our new speed shingles so you can be well informed about the laser cut options available exclusively at the Greenleaf Company Store!
Stay tuned as more details unfold as we approach the kick off date of March 20th (which just happens to be the first day of spring). This year's contest promises to be more fun than ever … we can't wait to see what you're going to come up with! As in previous years, the winner gets more than just bragging rights and cool prizes; they get to name this new product and be immortalized as part of the Greenleaf product line, right next to Annie's Lobster Shack and the Loganberry Mill! So get your thinking caps on and just imagine what's going to be behind these doors!
Wow! Another banner year for the Spring Fling Contest! Again, the judging was near impossible and this year, I had to step up into the judges seat to finally resolve the contest. It was difficult for me as I feel I know many of you personally, but I ensure you that I remained impartial. We did bend the rules a bit like last year and added another winner with a two way tie for third place. I honestly felt like everyone was a winner, so I'm sending out a gift to all entries which you can read about at the bottom of this post. So with out further delay, I present you the winners of the 2009 Spring Fling Contest:
Greenleaf is proud to announce the start of our third annual Spring Fling Contest!
Last years contest
was such fun, we decided to step it up a notch with a bigger project and bigger prizes! The Winners Bungalow is just what you need to get you in the spring mood! It's a unique house with a lot of potential and we honestly can't wait to see what you do with it!
Just like last year, we are making it extra interesting; we're going to name this new building after the winner! That's right, instead of the Winners Bungalow, we'll rename it after you - for example, Annie's Lobster Shack! Now how cool is that? New this year is a young Miniaturist category for ages 15 and under!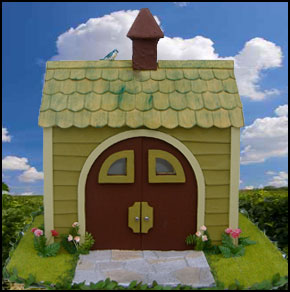 Greenleaf is proud to announce the start of our second annual Spring Fling Contest (formally the Heart Arbor Contest)! Last years contest was such fun, we decided to make a whole new kit just for this contest! This mini workshop is a great project to get you in the spring mood! It's a fine little building on its own and will look great sitting next to your dollhouse!
To make this years contest extra interesting, we're going to name this new building after the winner! That's right, instead of the Greenleaf Workshop, we'll rename it after you - for example, Mary's Workshop! Now how cool is that?
In a nutshell, just submit a picture of a scene with your Winners Workshop and you might win one of these great prizes below. The best news is that Greenleaf has put together a special deal on the Winners Workshop for $8.95 with FREE SHIPPING on your order* (more details below)! So join us in the fun as well celebrate the seasons!
Please join us in welcoming Heidi Cleveland to the Gazette crew. Heidi is going to be writing the Member of the Month feature for us. For those of you who know Heidi from the Greenleaf Miniature Community, you know that she has an exceptional talent for getting to know people and always asks the right kinds of questions. In fact, Heidi was the May 2007 Member of the Month. We're delighted that Heidi has agreed to apply her talents to help us get to know more members of our online family. Welcome Heidi!!
As always at the Greenleaf Dollhouse Forum, we rolled out the Holiday decorations on Black Friday.  There are three different themes to choose from to get you in the holiday spirit, and of course, our regular themes are available as well.  The Greenleaf forum is the go to resource on the Internet for miniature enthusiast.   With almost 200,000 post and over 14,000 pictures, you are bound to find that doll house tip you've been looking for!
Greenleaf Sites

Construction Blogs