All Posts Tagged With: "Greenleaf Gazette"
The Greenleaf Gazette, our official newsletter, is delighted to announce that our very own mini-expert, HavanaHolly, will be taking over the Quick Tip section of the newsletter each month.   For those of you who know Holly from our forum, you know that she's a walking encyclopedia of miniature information, tips and tricks.  Holly's expertise and her practical approach to building, decorating and creating miniatures is one of our most valuable resources, so we're looking forward to her gems of wisdom each month.  Watch for "Havana Holly's Quick Tips" beginning in the March Gazette!
Please join us in welcoming Heidi Cleveland to the Gazette crew. Heidi is going to be writing the Member of the Month feature for us. For those of you who know Heidi from the Greenleaf Miniature Community, you know that she has an exceptional talent for getting to know people and always asks the right kinds of questions. In fact, Heidi was the May 2007 Member of the Month. We're delighted that Heidi has agreed to apply her talents to help us get to know more members of our online family. Welcome Heidi!!
The Christmas Miniatures tutorial in last months issue of the Greenleaf Gazette is just what you need to get into the holiday mood!  It's a great way to get started decorating for the holidays, even if it is just on a small scale!  Deb Roberts of Debs Minis put together this picture lead tutorial that will walk you through the steps to create this great Christmas Miniatures!

I am sad to announce that after the December issue, Teresa Martens will be leaving the Greenleaf Gazette.  Teresa originally came up with the idea of the Greenleaf Member of the Month section of the newsletter and developed it into a fan favorite.  It quickly became a cornerstone of the monthly online publication as Teresa interviewed respected miniaturists from around the world. We here at Greenleaf send out a big thanks to Teresa for all her hard work over the last year!  
I would highly recommend a visit to Teresa's amazing Dollhouse Photo Show and of course, a visit to her web site.
In a recent post, I used the term "bashed" which is short for kit bashing.  Kit bashing is a practice in which a new design is created from a dollhouse kit by either removing, adding or combine features.  There is a great article on dollhouse kit bashing written by Deb Roberts in the April 2007 edition of the Greenleaf Gazette.  Deb is the editor in chief of the Gazette and owner of Deb's Minis.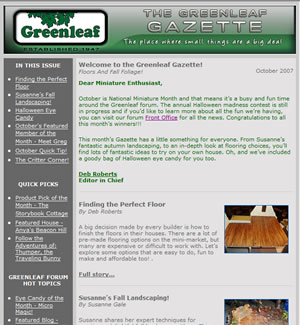 Did you miss last months copy of the Greenleaf Gazette? No worries, you can view our past newsletters online! Don't miss out on the great articles and cutting edge tutorials that keeps miniaturists informed and up to date every month! Special thanks to our Editor in Chief, Deb Roberts of Debs Minis. If you're interested in submitting an article for use in our Gazette, please contact Deb with your ideas.
For those of you who are having trouble receive our newsletter, please check your spam filter and add newsletter@greenleafdollhouses.com to your safe list. I would also suggest that you check your info registered with the newsletter by going to the Greenleaf Dollhouse Kits home page and putting your email address in the newsletter sign-up box. If you are already subscribed, a screen will open stating that your are already a member of the Greenleaf Dollhouses mailing list and will provide info for updating your profile.
Unfortunately, some members have had problems receiving the newsletter because their ISP blocks the IP addresses of our newsletter mail server in which case you can still access all the great information by clicking on the newsletters below.
The Greenleaf Gazette Archive - The Greenleaf Miniature Community
Greenleaf Sites

Construction Blogs